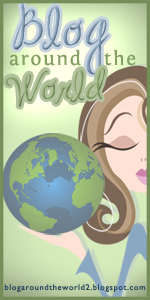 Holy buckets!  What a big day I had yesterday!!  Many thanks to
Debbie
at
Blog Around the World
for taking us on this whirlwind tour. And, thanks to all the friends who stopped in from all over the world for your kind words! You guys are awesome. As my husband would say, it was sort of like drinking out of a fire hydrant.  (He's from Georgia, where there is a pithy little saying for everything!) Couldn't keep up with all the good stuff coming my way.  
While you were hanging out at the fair
gawking at
admiring the butter sculptures, I was traveling around the world trying to visit you back.  That was the really amazing part!  What a fine bunch of people you are, making a difference on your pieces of the globe.  I had visitors that came through BATW from 27 states, plus Alberta and British Columbia, Chile, Paraguay and Hungary.  How cool is that!  If you haven't signed up for the tour yet,
go on and do it
! (There's even still time to enter the welcome contest.)
One of the things I saw on a few of your blogs got me thinking.  I am not one to be very excited to write purely about myself on my blog, but in case you come back to see what I'm like on a normal day, this seems like a good way to introduce myself.  After all, I so enjoyed getting to know you.  So here goes:
I AM ... first and foremost a child of God.
I WANT... more people to know His love and the grace He extended through His Son, Jesus.
I HAVE ... lived overseas for four years of my life, and in doing so have actually travelled around the world, arriving at Bangkok, Thailand from both east and west.
I WISH I COULD ... follow through on every act of kindness that ever crossed my mind!
I HATE ... destruction of all kinds--physical, emotional, spiritual.
I FEAR ... being misunderstood.
I HEAR ... giggling from my kids and husband frequently, and find it pure ecstasy!
I SEARCH ... for ways to really make my life count, but then too often spin my wheels in the searching instead of just picking something and doing it.
I DON'T THINK ...God is worried about that. (Or anything else, for that matter.)
I REGRET ... the fact that when I witness the destruction I hate, I tend to react in anger and perpetuate the cycle.
I LOVE ... my family to pieces!
I ACHE FOR ... people to understand each other better and be respectful in the midst of disagreement.
I ALWAYS CRY ... when I hear kids sing about Jesus. (But I did amazingly well during
THIS
...)
I AM NOT ... graceful, or good at anything that requires hand-eye coordination.
I DANCE ...with my husband once a year. While we are decorating for Christmas, I put on Amy Grant's Christmas CD and make him dance to Rockin' Around the Christmas Tree with me. We laugh the whole time, and Bethany gets jealous.
I SING ... alto on the praise team at church. It's one of my very favorite things to do in the whole wide world.
I NEVER ... say never.
I RARELY ... turn on the TV.
I CRY WHEN I WATCH ... Olympians who cry through medal ceremonies, and those who are disappointed.
I AM NOT ALWAYS ... on top of my game.
I HATE THAT ... I am not always on top of my game.
I'M CONFUSED ABOUT ... why so many Christians seem to treat their citizenship in the kingdom of God and their citizenship in the United States as though they are the same thing.
I NEED ... to wrap this up.
I SHOULD ... clean my house. Right now!
But there are about eight of you I haven't visited yet, so I've got a real dilemma on my hands.
Any questions?